WHO ARE THESE PEOPLE?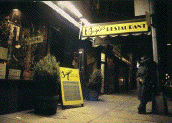 Bill and Karen Palmer opened Bogie's in 1981, the first mystery oriented restaurant and bar in the U.S., and Mystery Dinner Theater premiered there. The restaurant and the Palmers were hosts to the Mystery Writers of America, Private Eye Writers of America, Baker Street Irregulars, Priory Scholars, Adventuresses of Sherlock Holmes, Maltese Falcon Society, and the Wolfe Pack.



For nine years, this New York City location was the place where mystery writers, armchair detectives, and fictional sleuths gathered. The authors not only came to Bogie's to sign and talk about their books, but also incorporated the restaurant and the Palmers into the plots of their mystery novels. The restaurant and the Palmers have appeared in over thirty-five mystery novels.

The Palmers have been involved with mystery weekends since 1977, as lecturers, suspects of the crime, and as winning team members. Bogie's Mystery Tours® was officially created as a separate business in 1983, making this unique and exciting event available to the general public. Karen and Bill have since perpetrated numerous successful playfair, participatory whodunits on land and at sea, in domestic and exotic locales. Participants have the chance to witness the crime, become detectives, and solve the mystery by interrogating suspects and searching for clues.



Members of the Mystery Writers of America and The Private Eye Writers of America, Karen and Bill write, direct, and produce their analytical whodunits in the classic style. The Palmers have appeared on TV on Hour Magazine, Daytime, the Channel 2 News, and twice on the Joe Franklin Show on WOR. Their mystery weekend, "Murder at The Grand" was televised on WKYC TV. They have been interviewed on radio on The Voice of America, Canada's Basic Black Show, WBAI, The Patricia McCann Show on WMCA, the Warren Pierce Show in Detroit, and the Mystery Maize on WNYE. They were among the winners of Showtime's "Murder In Space" contest, and gave a talk on solving mystery puzzles and games at the 1985, Mohonk Mystery Weekend. Bill co-authored a radio show which aired in Germany, Switzerland, and on England's BBC. It has since been published as a short story in P.I. Magazine. A Japanese video magazine taped a World Success segment on Bogie's Mystery Tours® in 1990. An article appeared in Nikkei Venture, and Entrepreneur Magazine published a feature story on their corporate events in 1999.

Karen and Bill are the creators of CARIBBEAN BLUES, a novel published in 1988, written during a week-long mystery cruise they perpetrated on the Cunard Countess, based on their mystery scenario. In 1990, a hardcover version was published in England, and the paperback was reissued in the U.S. in 1991.



The Palmers initiated the Bogie's Mystery Book imprint for PaperJacks and were the packagers, editors, and co-publishers for the award-winning line. Bill served as vice-president of the NYC Chapter of the Mystery Writers of America. He wrote a column on Golden Age radio shows for Scarlet Street Magazine, and one on audio books for New Mystery Magazine. The Palmers also wrote the "Broadway Beat" column for Mystery Scene Magazine for over ten years.

Bill and Karen wrote columns on mystery games for New Mystery Magazine and Mystery News, and Bill wrote a column for P.I. Magazine for ten years. They have written articles and reviews for several other mystery publications including The Armchair Detective; Varieties of Ash, the Sherlockian journal; and Games Annual. Karen is the webmaster for Bill's site, Mysteries In Print, an ongoing listing of new and upcoming mystery books and books on cassette. They are listed in WHO'SWHO IN ENTERTAINMENT, WHO'SWHO IN AMERICA, and WHO'SWHO WORLDWIDE. Karen is also listed in WHO'SWHO OF AMERICAN WOMEN, IN THE EAST, U.S. EXECUTIVES, and Madison's WHO'SWHO.



In addition to their interest in the mystery genre, the Palmers teach martial arts and have written two books on martial arts films. The first book, MARTIAL ARTS MOVIES: From Bruce Lee To The Ninja, co-written with Ric Meyers, was published in 1985 by Citadel Press. Their second book, THE ENCYCLOPEDIA OF MARTIAL ARTS MOVIES, was published in 1995 by Scarecrow Press. A trade paperback edition was released in 2003. Karen and Bill began reviewing martial arts films on MSG TV's "Martial Art World" in 1985. They have served as choreographers, and as consultants for published mystery authors and film distributors.
---
©1996-2023 Bogie's Mystery Tours ®. This page last updated on January 2, 2017.