THE VERDICT


Corporate Events

Linda Buchanan of the Actors' Guild of Parkersburg wrote: "The murder mystery dinner theater project was a popular and fun event for us. We plan to do it again next year."

Paula Oliverio of the Actors' Guild of Parkersburg wrote: "I am writing to inform you that our 'dessert theater' The Minor Murder was a hit! We raised a little over $2000. Thanks so much. As patrons were leaving the theater they were asking if we could make it an annual event. Everyone really appreciated the local touches added. Thanks so much for all of your assistance!"

Regina Holleb of AT&T wrote: "Thanks again! We all had fun!"

Chris Ferina, Client Service Manager of BroadVision wrote: "Just wanted to say thank you for helping us out with a very successful team building office event. Everyone that participated had a wonderful time!"

Caryl Leong of Citibank wrote: "Everyone was intrigued. The `murder' was enjoyed by all. Again - it was great fun."

Susan Tarone of Citibank wrote: "Thanks again for a great performance...."

Susan Odell, director of the Community Agency for Senior Citizens, wrote: "We at CASC are delighted to be working with Bogie's Mystery Tours® for the fourth year in a row. This is a tribute to your group's ingenuity and ability to create a spookily good time for all!"

Susan Grace of Document Technologies, Inc. (dTech) wrote: "Thank you so very much for all your help in organizing a truly unique Holiday Party for all of us at Document Technologies, Inc. All the actors were so brilliant. They remained true to their characters the entire evening, bringing marvelous, witty conversations to every table. It enabled the newcomers in our group to join in, argue over the identity of the killer, work together in solving the crime and anguish over missing obvious clues. It was a wonderful night we will all remember. Again, many thanks from all of us."

Eileen O. Ford of Ford Models, Inc. wrote: "Thank you for making our birthday-anniversary party the success that it was!!! It was just wonderful. It was fun. I really did guess the murderer in the next five minutes, no matter what they say. Everybody enjoyed themselves immensely. Thank you very much!!!"

John Murray of JP Morgan wrote: "I am writing to thank you for your assistance with out dinner party. It was a lot of fun and a great success. I look forward to working with you again in the future."

Gary Doyle, NYC District Sales Manager, Thomas J. Lipton, Inc. wrote this letter to the meeting planner who booked us: "Just a note to let you know how much we appreciated our Mystery Night at our recent Sales Meeting. Karen and her group did an outstanding job of getting the total group involved and a great time was had by all. I must tell you that it was one of the finest events that we have ever conducted, and I look forward to the next opportunity to conduct a Bogie's Mystery. Thanks for your assistance."

Gail Tuller of Metcalf & Eddy of New York, Inc. wrote: "I just wanted to thank you for helping to make our party such a success. Everybody had a wonderful time and was very impressed with the actors who staged the `murder.' I hope I have the opportunity to play detective and work with you and your staff again. Thanks again!"

Frank Keefe, Manager of the Nassau Country Club. wrote: "Thank you for an excellent good job last evening. We sincerely enjoyed the professionalism and the very entertaining cast. Every one was wonderful. The feedback from our members was positive. I would be happy to have you back at a future date and avail myself should you wish to use us as a reference. Thanks again."

Michael Kasper of the New York Center for Psychoanalytic Training wrote: "I want to thank you for a very wonderful evening. Your group was great and everyone concerned with our organization thoroughly enjoyed themselves."

Laurie Meyer, Programs Plus International, Inc. wrote: "On behalf of my clients who have experienced your `killer' entertainment, I just wanted to let both of you know how much they all enjoyed becoming sleuths, even if it was just for an evening. Everyone I spoke to commented on how their group(s) worked together. The evenings proved to be great icebreakers especially for those in attendance who didn't know each other. In the groups where the purpose was to get the attendees working in teams that goal was easily reached. Team work was never so much fun. Your professionalism certainly made me and the meeting planner look like stars. Your willingness to do whatever it would take to make the event a success certainly was a plus for my clients. I look forward to doing more events with you in the near future."

Joseph A. Bottega, Richmond Bankers Association wrote: "It was a pleasure meeting with you and your actors. We all enjoyed the event and your actors were very congenial and Professional. I hope we see you again."

Mary Kain from the Staten Island Zoological Society wrote: "Everyone who attended said they had a wonderful time. Thank you for helping to provide the Staten Island Zoo's Corporate Members with what I think will be remembered as an unique and happy evening."

Jim Weikart of Weikart Tax Associates wrote: "Thank you for your splendid services at the Mystery Writers of America Halloween party. A great time was had by all."

Jan Firstenberg of the Universal Music Group wrote: "I want to thank you and your team for the excellent job you did in organizing the holiday party for my department, and in the actual 'performance' at the event.... I was particularly impressed with your ability to adapt to our changing needs regarding size of the party, venue, cocktail hour, and meal requirements. It was a pleasure to just have to deal with you and let you work out all the details with the restaurant and the performers. It was also great having one set price per person, which included tax and tip, with no hidden charges at the end. As to the party itself, was all had a blast! We were so impressed that O'Casey's was able to serve 81 people so efficiently with deliciously prepared (and hot) food, and the food choices were great. The actors at the event were wonderful (and so funny) and we all had a great time interacting with them and grilling them to try to discover 'who did it' and 'why.' Thanks again for doing such a great job and helping to make our holiday party such a big success."





Private Parties

Cathy Bokoff wrote: "Everyone is still talking about the mystery - what fun we all had! Thanks to you and your troupe for helping to make Jen's Bat Mitzvah so memorable."

Susan Dimmick wrote: "It looks like everyone had a great time at this party! The Bogie's Mystery party was a great success with all of our friends. No one had been to anything like it - they were delighted and impressed! Definitely a night to remember - just what my husband Paul wanted to celebrate his 40th. Thanks to all the actors for making it possible."

Donna & Ron Frank wrote: "We had a great time and loved the actors. The people we expected least to fall for your 'play' fell for it and were really into solving the mystery. Thank you for providing a very entertaining fun evening."

Sally & Michael Gordon wrote: "We just wanted you to know how thrilled we were with Eric's party.... It was more fun than we had even imagined. The entire evening was extremely well-organized, cleaver, and entertaining. As was so obvious, the kids were really involved and enthusiastic in their efforts to solve the murder! Thank you and your entire staff for making our son's Bar Mitzvah party as special and memorable as we had hoped it would be."

Maura Harway wrote: "Here's a photo you might get a kick out of - a very memorable evening in many ways. It was a terrific party and the kids had a great time (so did we). Thanks again."

Jerry & Rama Holcombe wrote: "We had a great time at the mystery 'As Crime Goes By,' and we're looking forward to attending many more dinners and tours."

Samuel Silberman wrote: "Last evening really went very well. Everyone seemed to have a good time. Thank you for your interest and help. It really was a lovely party. On Sunday we saw many of our friends who were at the party. They had nothing but raves."

Madelene Towne wrote: "Bogie's Mystery Tours® did a terrific job at my daughter's Bat Mitzvah party yesterday. The actors and storyline were wonderfully entertaining, and the children were completely engrossed in gathering cIues and solving the mystery. Not only did the mystery keep the guests busy and happy, but it also gave them a common ground so that even those children who didn't know each other beforehand had something to talk about together. In fact, many of the guests told me that it was the best Bar/Bat Mitzvah party they had ever been to. My family and I thank you and your troupe for a truly delightful and memorable event."





Awards







Press Release

FOR IMMEDIATE RELEASE



Bogie's Mystery Tours Receives 2009 New York Award





U.S. Local Business Association's Award Plaque Honors the Achievement



WASHINGTON D.C., June 8, 2009 -- Bogie's Mystery Tours has been selected for the 2009 New York Award in the Special Events category by the U.S. Local Business Association (USLBA).

The USLBA "Best of Local Business" Award Program recognizes outstanding local businesses throughout the country. Each year, the USLBA identifies companies that they believe have achieved exceptional marketing success in their local community and business category. These are local companies that enhance the positive image of small business through service to their customers and community.

Various sources of information were gathered and analyzed to choose the winners in each category. The 2009 USLBA Award Program focused on quality, not quantity. Winners are determined based on the information gathered both internally by the USLBA and data provided by third parties.

About U.S. Local Business Association (USLBA):
U.S. Local Business Association (USLBA) is a Washington D.C. based organization funded by local businesses operating in towns, large and small, across America. The purpose of USLBA is to promote local business through public relations, marketing and advertising.
The USLBA was established to recognize the best of local businesses in their community. Our organization works exclusively with local business owners, trade groups, professional associations, chambers of commerce and other business advertising and marketing groups. Our mission is to be an advocate for small and medium size businesses and business entrepreneurs across America.

SOURCE: U.S. Local Business Association
CONTACT: U.S. Local Business Association Email: PublicRelations@USLBA.net
URL: http://www.USLBA.net


---
Bogie's Mystery Tours Receives 2011-2015 New York Award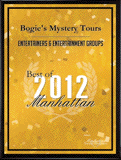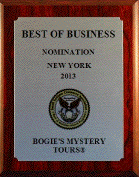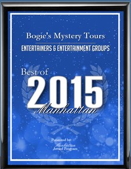 ---
© 1996-2023 Bogie's Mystery Tours®. Updated on January 2, 2017.