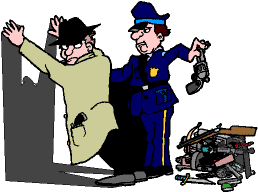 I TO Z


August 12, 2019
Jance, J.A. FIELD OF BONES. William Morrow. May '19. $9.99. Eighteenth in the series. "This time Sheriff Joanna Brady may expect to see her maternity leave through to completion, but the world has other plans when a serial homicide case surfaces in her beloved Cochise County. Rather than staying home with her newborn and losing herself in the cold cases to be found in her father's long unread diaries, Joanna instead finds herself overseeing a complex investigation involving multiple jurisdictions. Filled with the beloved characters, small town charm, vivid history, intriguing mystery, and the scenic Arizona desert backdrop that have made the Joanna Brady series perennial bestsellers, this latest entry featuring the popular sheriff is sure to please J.A. Jance's legion of fans." Available on Audio CD from HarperAudio.


---

Konrath, J.A. THE LIST. Pinnacle Books. September '18. $7.99. "They are ten strangers with one thing in common: A mysterious tattoo on the bottom of their feet. None of them know how it got there or what it means. One of them is a homicide cop who's determined to find out. All of them are marked for death - because they're next on ...THE LIST. The explosive new thriller from bestselling author J.A. Konrath, THE LIST takes you deep inside a top-secret techno-conspiracy that's too shocking to comprehend, too insidious to detect, and far too powerful to stop..."


---

Konrath, J.A. SHOT GIRL. May '19. $14.95. Twelfth in the Jacqueline "Jack" Daniels series. "Jack is a retired cop who knows and respects firearms. A recent victim of gun violence, she is confined to a wheelchair, getting physical therapy in a rehab facility, and teaching handgun safety and Second Amendment history to the elderly residents. A thousand miles away, a very disturbed individual with a modified 9mm pistol, a thousand rounds of ammo, and a singular obsession - to make history as the biggest mass murderer ever - decides to make that fantasy a reality. It has been said the only thing that can stop a bad guy with a gun is a good guy with a gun. Jack is about to find out if that's true."


---
Limon, Martin. THE LINE: A Sergeants Sueno and Bascom Novel. Soho Crime. October '18. $26.95. Thirteenth in the series. In the 1970s, a politically motivated murder takes the two Army CID detectives from Seoul to the DMZ when a victim is found between North and South Korea. When the two men are told to move the body onto the South Korean side, it sparks an international incident. Now Sueno and Bascom must solve the murder of Corporal Noh Jong-bei, a Korean soldier working with the US Army, before war breaks out. Investigating the crime is very complicated since the two countries won't cooperate. When the two discover information the government doesn't want disclosed, they are taken off the case. But believing they arrested the wrong man, they disobey orders in an attempt to discover the truth. Available in trade paperback. September '19. $15.95.


---
Lovesey, Peter. BEAU DEATH: A Peter Diamond Investigation. Soho Crime. October '18. $16.95. Seventeenth in the series. Chief Inspector Peter Diamond is assigned to a very unusual case when a corpse, possibly from the 1700s, is found in an attic in Bath. A row of townhouses is being demolished and when a body is found, Diamond is sent there to find out if the dead man is actually the infamous Richard 'Beau' Nash. Was Beau killed centuries ago and left in the attic? The corpse is dressed in 1700s garb along with a hat that was Beau's signature. Diamond is looking forward to upsetting the The Beau Nash Society if it is actually Beau in that attic. The only problem is Diamond's constable who insists the body could not be Beau. Is this the case of a a very old murder, or a more recent one?



---
Olshan, Joseph. BLACK DIAMOND FALL. Polis Books. September '18. $26.00. Based on real events that took place at Middlebury College, Vermont, two separate incidents appear to be linked when a college student, Luc Flanders, disappears and somebody breaks into the Robert Frost House near the college campus. Detective Nick Jenkins and his partner, Helen Kennedy, are assigned to the case and have no lack of suspects, including an older man that was in a secret relationship with the missing student, an ex-girlfriend, and Luc's college roommates. In this "literary" mystery, the case unfolds as seen from different perspectives and rushes headlong into an unexpected conclusion. Trade paperback edition. August '19. $16.00.


---
Quartey, Kwei. DEATH BY HIS GRACE: A Darko Dawson Investigation Set In Ghana. Soho Crime. September '18. $15.95. Fifth in the series. A high society marriage is all the people of Accra, Ghana are talking about. The gossip goes into high drive when it's learned that the wife, Katherine Yeboah, can't have children. Here husband's family accuses her of practicing witchcraft and the marriage starts to fall apart forcing her husband, Solomon, to throw her out of the house. Then, on her final night before leaving, Katherine is brutally murdered. Assigned to the case, Chief Inspector Darko Dawson of the Ghanaian federal police has several reasons for wanting to discover who killed Katherine, including the fact that she was his wife's cousin. His investigation leads him to several possible suspects including her husband, her ex-lover and her very wealthy pastor. As he sifts through the clues Darko is forced to look into the important role played by religion in the area and must face his own inner turmoil.


---
Sandford, John. NEON PREY. G.P. Putnam's Sons. April '19. $29.00. Twenty-ninth is the series. "Lucas Davenport pursues a prolific serial killer who has gone undetected for years.... It was a relatively minor criminal matter, all things considered, but enough that the U.S. Marshals obtained a warrant to enter the home. They didn't expect to unearth trophies from a score of killings. Now Davenport is on the trail of a serial murderer, one who was able to operate for years without notice or suspicion. But there's even more to this killer than meets the eye..."


---
Tursten, Helene. HUNTING GAME. Soho Crime. March '19. $26.95. Translated by Paul Norlen. First in a new series. Tursten introduces Detective Inspector Embla Nystrom of the mobile unit in Gothenburg, Sweden. She's an avid hunter and a welterweight fighter. On vacation, Embla heads to her uncle's cabin in a rural area for the family annual moose hunt. This year is differnt though, an intersting newcomer named Peter has joined the group. Things soon start to go wrong and two of the hunters disappear. Taking charge of the situation, Embla find one of the hunters dead in a lake. Local police lend a hand and Ebla investigates the members of the group hoping to find the killer.


---

Tursten, Helene. PROTECTED BY THE SHADOWS: An Inspector Irene Huss Investigation. Soho Crime. October '18. $15.95. Translated by Marlaine Delargy. Tenth and final book in series. Goteborg, Sweden has a big problem with gang violence and to make matters worse, it looks like there is a mole on the force. The situation escalates, forcing the Organized Crimes Unit to join forces with the Violent Crimes Unit. When a member of a biker gang is set on fire and both units expect some kind of retaliation. To complicate the matter even further, Irene is sure she is being stalked and fears for the safety of her family.


---
Williams, Timothy. THE SECOND DAY OF THE RENAISSANCE: A Commissario Trotti Investigaation Set In Northern Italy. Soho Crime. September '18. $15.95. Sixth in the series. After a long and successful career as a police detective in River Po, Northern Italy, the Commissario has retired. His retirement, however, doesn't last long when an old friend warns him that a well-known hitman has returned to Italy to kill him. Trotti isn't very surprised at the news though - it isn't that unexpected consdering his long career and the mistakes he made. In an effort to escape the hitman, Trotti travels around Italy and searches for clues to an old murder case that was never solved. Will this investigation help him to evade the hitman and save his family?


---
© 1996-2019 Bill Palmer.