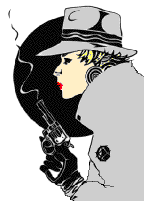 M TO Z


April 8, 2018
Mosley, Walter. CHARCOAL JOE: An Easy Rawlins Mystery. Vintage Crime/Black Lizard. May '17. $15.00. "Walter Mosley's indelible detective Easy Rawlins is back, with a new detective agency and a new mystery to solve. Picking up where his last adventures in Rose Gold left off in L.A. in the late 1960s, Ezekiel 'Easy' Rawlins finds his life in transition. He's ready - finally - to propose to his girlfriend, Bonnie Shay, and start a life together. And he's taken the money he got from the Rose Gold case and, together with two partners, Saul Lynx and Tinsford 'Whisper' Natly, has started a new detective agency. But, inevitably, a case gets in the way: Easy's friend Mouse introduces him to Rufus Tyler, a very old man everyone calls Charcoal Joe. Joe's friend's son, Seymour (young, bright, top of his class in physics at Stanford), has been arrested and charged with the murder of a white man from Redondo Beach. Joe tells Easy he will pay and pay well to see this young man exonerated, but seeing as how Seymour literally was found standing over the man's dead body at his cabin home, and considering the racially charged motives seemingly behind the murder, that might prove to be a tall order. Between his new company, a heart that should be broken but is not, a whole raft of new bad guys on his tail, and a bad odor that surrounds Charcoal Joe, Easy has his hands full, his horizons askew, and his life in shambles around his feet."


---
Muller, Marcia. THE COLOR OF FEAR. Grand Central. August '17. $26.00. Thirty-third in the Sharon McCone series. "When a knock on the door in the middle of the night wakes Sharon, she's wholly unprepared for the horrifying news: her father has been the victim of a vicious, racially-motivated attack. A nationally recognized Shoshone artist, Elwood had been visiting Sharon for the holidays, browsing for gifts in San Francisco's exclusive Marina district when he was set upon by a mob of angry young men. Now he lies in a coma, hovering between life and death. With little progress on the investigation from the overworked, short-handed police, Sharon resolves to track down Elwood's attackers herself. But when Sharon begins receiving hate-filled, racist threats from a shadowy group, it becomes clear that her pursuit of justice may be putting her own life in jeopardy..." Paperback edition. April '18. $7.99.


---
Paretsky, Sara. FALLOUT. William Morrow. December '17. $9.99. "Book 19 of 19 in the V.I. Warshawski Novels Series. Before there was Lisbeth Salander, before there was Stephanie Plum, there was V.I. WARSHAWSKI. To her parents, she's Victoria Iphigenia. To her friends, she's Vic. But to clients seeking her talents as a detective, she's V.I. And her new case will lead her from her native Chicago... and into Kansas, on the trail of a vanished film student and a faded Hollywood star. Accompanied by her dog, V.I. tracks her quarry through a university town, across fields where missile silos once flourished - and into a past riven by long-simmering racial tensions, a past that holds the key to the crimes of the present. But as the mysteries stack up, so does the body count. And in this, her toughest case, not even V.I. is safe."


---
Pronzini, Bill. THE BAG OF TRICKS AFFAIR: A Carpenter and Quincannon Mystery. Forge Books. March '18. $25.99. Sixth in the series. "THE BAG OF TRICKS AFFAIR is the latest charming historical mystery in Mystery Writers of America Grand Master Bill Pronzini's detective series. A conman always has a bag of tricks, ready to fool the unsuspecting, and almost everyone is unsuspecting until they get taken. When that happens, they turn to Carpenter and Quincannon, Professional Detective Services, to recover their money and what's left of their dignity, and perhaps even to save their lives. When one such case leaves Sabina Carpenter the only witness to a murder, the family of the culprit vows to stop at nothing to keep her silent. The threat leaves John Quincannon deeply concerned for Sabina's safety, but there's no rest for the wicked and so the crime-solving duo must split up to tackle two separate con games, run by two villains with deadly bags of tricks at hand. And when Sabina's life is put in danger, John must rush to save her while grappling with the terrifying realization of exactly how much she means to him." Simultaneous release on Audio CD.


---
Pronzini, Bill. ENDGAME: A Nameless Detective Novel. Forge Books. June '17. $24.99. Forty-sixth in the series. "The Nameless Detective has taken many cases over the years...and this is one for the books. Or rather, two cases that will test his agency's resources. Love is in the air...more to the point, love gone awry. One case involves a woman whose husband died accidentally in a remote cabin in the Sierras. The wife isn't buying that her husband was alone, and is determined to find out his secret and get closure...in spite of any potential heartbreak. The other case is a missing person ...but the person missing was agoraphobic and never left the house. The husband swears that while their relationship was strained due to his wife's condition, he was still in love with her. He begs Nameless to clear him and find his wife before the cops come for him. Bill Pronzini's ENDGAME is a classic Nameless tale - twisty puzzles featuring one of mystery's best loved detectives."


---
Shelton, Connie. ALIBIS CAN BE MURDER: Charlie Parker Mysteries. Secret Staircase Books. June '17. $13.99. Seventeenth in the series. Charlie is back in another exciting, not to be missed adventure! This time, against her better judgement, her partner Ron takes on a case of a cheating spouse which takes several ridiculous turns. Then a neighbor asks Charlie to look into twin girls with too much time and too much money, who live on the block. Now Charlie must figure out if they are into something sinister.


---
Tantimedh, Adi. HER BEAUTIFUL MONSTER: Second in the Ravi PI Series. Atria/Leopoldo & Co. December '17. $26.00. We're taken on another breathless ride as Private Investigator Ravi Chandra Singh and his cohorts take on a mysterious case. Things take a strange turn when Ravi's colleagues at the agency find out that he has visions of Hindu gods, but not only are they all alright with it, they encourage him hoping it will help in their work! In their second case, they are hired to find the missing will of a high-ranking dead Russian. Following several leads, they soon realize that things are more complicated than expected. Danger follows Rave as his past catches up to the present and his life is in danger. Available in trade paperback. June '18. $16.00.


---
Thoft, Ingrid. DUPLICITY. G.P. Putnam's Sons. May '17. $25.00. Fourth in the series. "Gutsy Boston P.I. Fina Ludlow returns with a case that puts her faith to the test - in the latest addition to the critically acclaimed series by Ingrid Thoft. When Ceci Renard hires Ludlow and Associates to sue the hip new church that she believes has brainwashed her daughter, Fina Ludlow is assigned to the case. Covenant Rising Church has all the trappings of a less-than-holy organization: a slick young pastor and his comely wife; fancy houses and luxury cars; and devoted congregants who seem eager to part with their money. Fina wonders if Ceci disapproves of Covenant Rising's theology or the pastor's ability to solicit generous donations - until a prominent church member dies unexpectedly. Fina's investigation requires her to delve into the woman's life - both in and out of Covenant Rising - and ask a host of difficult questions. Is the pastor leading his flock astray? Did the church have a hand in the death or were there less savory elements in the woman's life outside the parish? The case proves to be a complicated morass of misplaced loyalties and questionable motivations, rivaled only by the current state of the Ludlow family. The return of eldest brother Rand sets in motion an explosive showdown that threatens the very fabric that holds the family together, forcing Fina to confront the true meaning of faith."


---
Thompson, Victoria. MURDER IN THE BOWERY. Berkley Books. May '17. $26.00. Twentith in the Gaslight Mystery series. "The latest Gaslight Mystery from the bestselling author ...finds Sarah Brandt and Frank Malloy searching for a connection between a murdered newsie and a high society woman with dangerous habits. Frank Malloy's latest client is the well-dressed Will Bert. He's searching for his brother, a newsboy named Freddie, so he can share his new financial good fortune. Frank makes quick work of the case and locates Freddie, but a happy reunion between brothers is not in the cards. When Will's name is mentioned, Freddie runs off - only to be found dead a short time later. Suspicious, Frank tracks down Will who spins a tale of lust and deceit involving a young society woman, Estelle Longacre, also recently deceased. Frank can't be sure if Estelle's risky behavior and the company she kept was to blame, or if her own ruthless family had a hand in her death. Frank will need Sarah's help to unearth the dark secrets of the wealthy Longacres and to discover if there is a connection between Estelle and Freddie's death. Together they must navigate a perilous underground web of treachery to find the truth." Paperback edition. April '18. $7.99.


---
Winspear, Jacqueline. TO DIE BUT ONCE. Harper Books. April '18. $27.99. Fourteenth in the series. "Maisie Dobbs..faces danger and intrigue on the home front during World War II. During the months following Britain's declaration of war on Germany, Maisie Dobbs investigates the disappearance of a young apprentice working on a hush-hush government contract. As news of the plight of thousands of soldiers stranded on the beaches of France is gradually revealed to the general public, and the threat of invasion rises, another young man beloved by Maisie makes a terrible decision that will change his life forever. Maisie's investigation leads her from the countryside of rural Hampshire to the web of wartime opportunism exploited by one of the London underworld's most powerful men, in a case that serves as a reminder of the inextricable link between money and war. Yet when a final confrontation approaches, she must acknowledge the potential cost to her future - and the risk of destroying a dream she wants very much to become reality."


---
© 1996-2018 Bill Palmer.