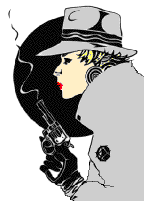 L TO Z


December 23, 2021
Mosley, Walter. TROUBLE IS WHAT I DO. Mulholland Books. January '21. $15.99. "Morally ambiguous P.I. Leonid McGill is back - and investigating crimes against society's most downtrodden - in this installment of the beloved detective series from an Edgar Award-winning and bestselling crime novelist. Leonid McGill's spent a lifetime building up his reputation in the New York investigative scene. His seemingly infallible instinct and inside knowledge of the crime world make him the ideal man to help when Phillip Worry comes knocking. Phillip 'Catfish' Worry is a 92-year-old Mississippi bluesman who needs Leonid's help with a simple task: deliver a letter revealing the black lineage of a wealthy heiress and her corrupt father. Unsurprisingly, the opportunity to do a simple favor while shocking the prevailing elite is too much for Leonid to resist. But when a famed and feared assassin puts a hit on Catfish, Leonid has no choice but to confront the ghost of his own felonious past. Working to protect his client and his own family, Leonid must reach the heiress on the eve of her wedding before her powerful father kills those who hold their family's secret. Joined by a team of young and tough aspiring investigators, Leonid must gain the trust of wary socialites, outsmart vengeful thugs, and, above all, serve the truth - no matter the cost."


---
Muller, Marcia. ICE AND STONE. Grand Central. August '21. $28.00. Twenty-seven of twenty-seven in the Sharon McCone series. "In remote Northern California, private investigator Sharon McCone goes undercover to investigate the murders of two indigenous women in this gripping, atmospheric mystery in the New York Times bestselling series. When the bodies of two Indigenous women are found in the wilderness of northern California, it is only the latest horrific development in a string of similar crimes in the area. Despite all evidence to the contrary, officials rule the deaths isolated incidents, which soon join the ranks of countless other unsolved cases quickly dismissed by law enforcement. In a town where too many injustices are tolerated or brushed under the rug, only a few people remain who refuse to let a killer walk free. But Private Investigator Sharon McCone is one of those few. She is hired by an organization called Crimes against Indigenous Sisters to go undercover in Meruk County - a community rife with secrets, lies, and corruption - to expose the truth. In an isolated cabin in the freezing, treacherous woods, McCone must work quickly to unravel a mystery that is rooted in profound evil - before she becomes the killer's next target." Simultaneous release on Audio CD from Hachette and Blackstone. Available in paperback. March '22. $9.99.


---
Ravenel, M. THE ARRANGEMENT: A Plainclothes Tootsie Mystery. Chikara Press. March '21. $9.99. "Another case has fallen onto the desk of Tootsie Carter; a female detective armed with a snub-nosed Colt .38, unmatchable wit, and a pocketful of Tootsie Rolls. New York City, 1975... A missing wife. The seedy underbelly of the boxing world. Lace your gloves and ring the bell, PI Tootsie Carter is on the case. When a desperate man stumbles into her office, pleading for help locating his wife, Tootsie launches into the investigation Following the clues, she uncovers a boxing racketeer with a deadly agenda. Can Toosie deliver the one-two punch that brings the woman home safe? Or will more bodies fall to the mats?


---
Welsh-Huggins, Andrew. AN EMPTY GRAVE: AN Andy Hayes Mystery. Swallow Press. June '21. $21.95. "Private investigator Andy Hayes takes the assignment against his better judgment. In 1979, a high-profile burglar shot a cop, was apprehended, and then disappeared without ever being prosecuted. Forty years later, after the wounded cop's suicide, his son, Preston Campbell, is convinced there's been a cover-up that allowed his father's attacker to go free. At first, Hayes dismisses Campbell's outlandish conspiracy theories. But when a mysterious Cold War connection to the burglar emerges, the investigation heats up, and Hayes discovers a series of deaths that seem to be connected, one way or another, to the missing criminal. Nothing seems to add up, though, and Hayes finds himself hurtling headlong down a decades-old path of deadly secrets. In the midst of cracking the cold case, Hayes has another mystery to solve closer to home: What's been troubling his younger son, Joe, and why is his ex-wife so eager to have the boy out of her house? Further complicating matters, Hayes learns that another private eye, the captivating but inscrutable Hillary Quinne, is also on the trail of the vanished burglar and needs Hayes's help. As their professional and personal lives blur, Hayes wonders what he's gotten himself into, and whether he really wants out."


---
© 1996-2022 Bill Palmer.