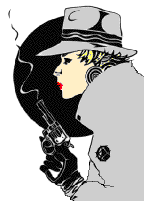 K TO Z


October 17, 2019
King, Laurie R. ISLAND OF THE MAD: A novel of suspense. BAllison & Busby. January '19. $14.17. Eleventh in the series. "Mary Russell and Sherlock Holmes untangle the slippery threads of insanity and deadly secrets as they investigate a disappearance in the New York.... A June summer's evening, on the Sussex Downs, in 1925. Mary Russell and Sherlock Holmes are strolling across their orchard when the telephone rings: an old friend's beloved aunt has failed to return following a supervised outing from Bedlam. After the previous few weeks - with a bloody murder, a terrible loss, and startling revelations about Holmes - Russell is feeling a bit unbalanced herself. The last thing she wants is to deal with the mad, and yet, she can't say no. The Lady Vivian Beaconsfield has spent most of her adult life in one asylum after another, yet she seemed to be improving - or at least, finding a point of balance in her madness. So why did she disappear? Did she take the family's jewels with her, or did someone else? The Bedlam nurse, perhaps? The trail leads Russell and Holmes through a lunatic asylum's stony halls to the warm Venice lagoon, where ethereal beauty is jarred by Mussolini's Blackshirts, where the gilded Lido set may be tempting a madwoman, and where Cole Porter sits at a piano, playing with ideas...."


---
Leininger, Rob. GUMSHOE FOR TWO. Oceanview Publishing. November '18. $16.00. Second in the Mortimer Angel Series. "In the style of Dashiell Hammett, ex-IRS agent turned gumshoe-in-training, Mortimer Angel, is approached by a beautiful hooker, Holiday, in a casino bar in Reno. Mort first met Holiday two months ago, but now learns that she's not really a hooker. She's a college engineering student, searching for her younger sister, Allie, who disappeared three months ago. Having seen Mort in the news, Holiday knows he's a PI who finds missing persons. While in the bar with Mort, Holiday gets an unexpected phone call from Allie, who says she's in Gerlach, a small town in Nevada. The call is cut off. Holiday hires Mort on the spot, dragging him off to Gerlach. When Mort finds a connection between Allie and US Senator Harry 'Liar' Reinhart, a presidential candidate who vanished without a trace three days ago, things quickly turn deadly...very deadly."


---
Muller, Marcia. THE BREAKERS. Grand Central. March '19. $7.99. Thirtyfourth in the Sharon McCone series. "Sharon gets a request from her former neighbors the Curleys. Their usually dependable daughter, Chelle, hasn't answered their calls in over a week. Would Sharon check on her? Chelle, a house flipper, has been living at her latest rehab project: a Prohibition-era nightclub known as the Breakers, formerly a favored watering hole for San Francisco's elite, now converted into a run-down apartment building. There's something sinister about the quirky space, and Sharon quickly discovers why. Lurking in a secret room between two floors is a ghastly art gallery: photos and drawings of mass murderers, long ago and recent. Jack the Ripper. The Zodiac and Zebra killers. Charles Manson. What, an alarmed Sharon wonders, was Chelle doing in this chamber of horrors? And as Sharon begins to suspect that the ghoulish collage may be more than just a leftover relic of the Breakers' checkered history, her search for Chelle becomes a desperate race against the clock before a killer strikes again." Available on Audio CD.


---
Paretsky, Sara. SHELL GAME: A V.I. Warshawski Novel. William Morrow. June '19. $9.99. "Acclaimed detective V.I. Warshawski tackles a pair of perplexing cases involving those closest to her in this compelling and timely adventure that centers on some of the most divisive and pressing issues of our time. When V.I Warshawski gets word that her closest friend and mentor Lotty Herschel's nephew has become a suspect in a murder, the legendary detective will do everything she can to save him. The cops found Felix Herschel's name and phone number on the unknown victim's remains, but Felix insists he doesn't know why. As Vic digs deeper, she discovers that the dead man was obsessed with Middle Eastern archeology - the first clue in a bewildering case that leads to a stolen artifact and a shadowy network of international criminals. But the trouble multiplies when Vic's long lost niece, Reno, goes missing. A beautiful young woman with a heartbreaking past and a promising future, Reno is harboring a secret that may cost her her life. V.I. can hear the clock ticking on her niece's safety and is frantic in her efforts to find her. Vic won't leave any stone unturned until these very personal cases are cleared - a complex investigation that will entangle the Russian mob, ISIS backers, rogue ICE agents, a nefarious corporation preying on the poor, and a shady network of stock scams and stolen antiquities stretching from Chicago to the East Indies and the Middle East. In SHELL GAME, no one can be trusted and nothing is what it seems, except for the indomitable detective and her thirst for justice." Available on Audio CD from HarperCollins & Blackstone Audio.


---

Spillane, Mickey & Collins, Max Allan. MIKE HAMMER - MURDER, MY LOVE. Titan Books. March '19. $22.99. "Hammer is summoned to a meeting with Jamie Winters, United States Senator from New York, and Jamie's lovely, very smart wife, Nicole, considered by many to be the power behind the throne. Winters is being blackmailed, and Hammer is given a list of suspects who may be behind the threats to the Senator's career. But when the suspects begin to drop like flies, Hammer realises there is more to this case than just a salacious tape."


---
Straley, John. BABY'S FIRST FELONY. Soho Crime. June '19. $15.95. Seventh in the Cecil Younger Investigation series. The Shamus Award-winner returns to Alaska and criminal defense investigator Cecil Younger. Cecil is approached by Sherrie, a client he helped in the past, who asks him to find evidence that will clear her of a domestic violence charge. He agrees in the hopes that he can have her abusive boyfriend put into jail. But what he finds in the apartment Sherrie sent him to is a whole different story - the supposed evidence turns out to be fifty thousand dollars in cash and his teen-age daughter Blossom! The case takes another bad turn which leads to a freezer full of drugs stuffed into fish as well as a murder witness and the kidnapping of his daughter. His only help just might be the motley crew of clients he helped defend over the years.


---
Tantimedh, Adi. HER BEAUTIFUL MONSTER: Second in the Ravi PI Series. Atria/Leopoldo & Co. November '18. $16.00. We're taken on another breathless ride as Private Investigator Ravi Chandra Singh and his cohorts take on a mysterious case. Things take a strange turn when Ravi's colleagues at the agency find out that he has visions of Hindu gods, but not only are they all alright with it, they encourage him hoping it will help in their work! In their second case, they are hired to find the missing will of a high-ranking dead Russian. Following several leads, they soon realize that things are more complicated than expected. Danger follows Rave as his past catches up to the present and his life is in danger.


---
Winspear, Jacqueline. TO DIE BUT ONCE. Harper Perennial. March '19. $16.99. Fourteenth in the series. "Maisie Dobbs..faces danger and intrigue on the home front during World War II. During the months following Britain's declaration of war on Germany, Maisie Dobbs investigates the disappearance of a young apprentice working on a hush-hush government contract. As news of the plight of thousands of soldiers stranded on the beaches of France is gradually revealed to the general public, and the threat of invasion rises, another young man beloved by Maisie makes a terrible decision that will change his life forever. Maisie's investigation leads her from the countryside of rural Hampshire to the web of wartime opportunism exploited by one of the London underworld's most powerful men, in a case that serves as a reminder of the inextricable link between money and war. Yet when a final confrontation approaches, she must acknowledge the potential cost to her future - and the risk of destroying a dream she wants very much to become reality."


---
© 1996-2019 Bill Palmer.