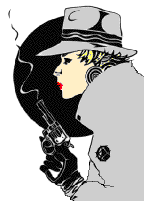 I TO Z


May 17, 2020
Jance, J.A. THE A LIST. Pocket Books. January '20. $9.99. Fourteenth in the Ali Reynolds Series. Ali's broadcasting career ended over ten years ago, but she has made a new life for herself in Sedona, Arizona. She now runs High Noon Enterprises, a cyber-security company with a team of tech wizards that hunts down criminals. She is enjoying life with her new husband when the past returns with the news of the death of an old friend along with memories of the last story she reported which put a doctor in jail for the murder of one of his patient. Now the doctor, still in prison, is out for revenge on everybody that helped put him there. Can Ali find the hired killer and prove the doctor is behind her friend's death before the killer comes after her?


---

Keliikoa, Mary. DERAILED. Epicenter Press. May '20. $15.95. When a single mom with a deaf daughter inherits her father's PI business and she aims to prove that a young woman's death by train wasn't an accident and finds herself on a crash course with her complicated family and a killer determined to keep the truth hidden.



---
Konrath, J.A. CHASER. Independently published. January '20. $13.95. Thirteenth in the Jacqueline 'Jack' Daniels series. "Retired cop Jacqueline 'Jack' Daniels and her ex-criminal husband Phineas Troutt have made a lot of enemies over the years. But none worse than The Cowboy, a gunslinging nutcase who wants to slaughter them both, and Hugo Troutt, a gang leader who has been plotting revenge against his younger brother for over a decade. Separately, these baddies are formidable. Together, they are unstoppable. But Jack has even more hell to deal with. She and her former partner, private eye Harry McGlade, are in L.A. chasing an insane plastic surgeon who specializes in disfiguring his victims. And Jack's colleague Tom Mankowski has problems of his own with a snuff film auteur named Erinyes. With four psychopaths on the prowl, Jack, Phin, Harry, and Tom will need to call on some old friends if they hope to get out of LaLa Land alive... This thirteenth Jack Daniels novel brings together villains from Konrath's thrillers WHITE RUSSIAN, EVERYBODY DIES, and WEBCAM, along with heroes from SHOT OF TEQUILA, THE LIST, WHAT HAPPENED TO LORI, and FLEE, for the ultimate West Coast showdown. The hunt is on. But who's hunting whom?"


---
Mosley, Walter. TROUBLE IS WHAT I DO. Mulholland Books. March '20. $24.00. "Morally ambiguous P.I. Leonid McGill is back - and investigating crimes against society's most downtrodden - in this installment of the beloved detective series from an Edgar Award-winning and bestselling crime novelist. Leonid McGill's spent a lifetime building up his reputation in the New York investigative scene. His seemingly infallible instinct and inside knowledge of the crime world make him the ideal man to help when Phillip Worry comes knocking. Phillip 'Catfish' Worry is a 92-year-old Mississippi bluesman who needs Leonid's help with a simple task: deliver a letter revealing the black lineage of a wealthy heiress and her corrupt father. Unsurprisingly, the opportunity to do a simple favor while shocking the prevailing elite is too much for Leonid to resist. But when a famed and feared assassin puts a hit on Catfish, Leonid has no choice but to confront the ghost of his own felonious past. Working to protect his client and his own family, Leonid must reach the heiress on the eve of her wedding before her powerful father kills those who hold their family's secret. Joined by a team of young and tough aspiring investigators, Leonid must gain the trust of wary socialites, outsmart vengeful thugs, and, above all, serve the truth - no matter the cost."


---
Paretsky, Sara. SHELL GAME: A V.I. Warshawski Novel. William Morrow. June '19. $9.99. "Acclaimed detective V.I. Warshawski tackles a pair of perplexing cases involving those closest to her in this compelling and timely adventure that centers on some of the most divisive and pressing issues of our time. When V.I Warshawski gets word that her closest friend and mentor Lotty Herschel's nephew has become a suspect in a murder, the legendary detective will do everything she can to save him. The cops found Felix Herschel's name and phone number on the unknown victim's remains, but Felix insists he doesn't know why. As Vic digs deeper, she discovers that the dead man was obsessed with Middle Eastern archeology - the first clue in a bewildering case that leads to a stolen artifact and a shadowy network of international criminals. But the trouble multiplies when Vic's long lost niece, Reno, goes missing. A beautiful young woman with a heartbreaking past and a promising future, Reno is harboring a secret that may cost her her life. V.I. can hear the clock ticking on her niece's safety and is frantic in her efforts to find her. Vic won't leave any stone unturned until these very personal cases are cleared - a complex investigation that will entangle the Russian mob, ISIS backers, rogue ICE agents, a nefarious corporation preying on the poor, and a shady network of stock scams and stolen antiquities stretching from Chicago to the East Indies and the Middle East. In SHELL GAME, no one can be trusted and nothing is what it seems, except for the indomitable detective and her thirst for justice."


---
Spillane, Mickey & Collins, Max Allan. MIKE HAMMER - THE BIG BANG. Titan Books. March '20. $8.99. "The reissue of a classic Mike Hammer story from the New York Times bestselling authors Max Allan Collins and the iconic master of noir Mickey Spillane. The toughest private eye in mystery fiction is back - it's the middle of the Swinging Sixties in midtown Manhattan. Hammer, recuperating from a near fatal mix-up with the Mob, disturbs some drug dealers assaulting a young motorbike messenger who was transporting medicine for a hospital. He saves the kid but the muggers are not so lucky. The Mob and a new young breed of drug trafficker assume he will target them, and they target him right back, with a street-corner knife attack. Hammer and his beautiful, deadly partner Velda take on the drug racket in New York. In a world of flashy discos, swanky bachelor pads and the occasional dark alley, Hammer deals with doctors, drug addicts and hit men, and meets changing times with his trademark brand of violent vengeance."


---
Spillane, Mickey & Collins, Max Allan. MIKE HAMMER - MASQUERADE FOR MURDER. Titan Books. March '20. $22.99. Nineth in the series. "Mike Hammer, the iconic PI created by hard-boiled crime master Mickey Spillane and written by New York Times bestseller Max Allan Collins, returns in MASQUERADE FOR MURDER. Hammer is at a high society party when a wealthy and well-respected man, Colby, is hit by a car and badly injured. When all he expected was a night on the town, Mike is hired to find out who was driving the car. His search leads him on a trail of murders, the victims often exhibiting the same kind of strangulation as the cause of death. How are they connected to an accident involving Corby, and why is the man himself acting so strangely?"


---

Spillane, Mickey & Collins, Max Allan. MIKE HAMMER - MURDER, MY LOVE. Titan Books. August '20. $8.99. "Hammer is summoned to a meeting with Jamie Winters, United States Senator from New York, and Jamie's lovely, very smart wife, Nicole, considered by many to be the power behind the throne. Winters is being blackmailed, and Hammer is given a list of suspects who may be behind the threats to the Senator's career. But when the suspects begin to drop like flies, Hammer realises there is more to this case than just a salacious tape."


---
Straley, John. BABY'S FIRST FELONY. Soho Crime. June '19. $15.95. Seventh in the Cecil Younger Investigation series. The Shamus Award-winner returns to Alaska and criminal defense investigator Cecil Younger. Cecil is approached by Sherrie, a client he helped in the past, who asks him to find evidence that will clear her of a domestic violence charge. He agrees in the hopes that he can have her abusive boyfriend put into jail. But what he finds in the apartment Sherrie sent him to is a whole different story - the supposed evidence turns out to be fifty thousand dollars in cash and his teen-age daughter Blossom! The case takes another bad turn which leads to a freezer full of drugs stuffed into fish as well as a murder witness and the kidnapping of his daughter. His only help just might be the motley crew of clients he helped defend over the years.


---
Winspear, Jacqueline. TO DIE BUT ONCE. Harper Perennial. May '19. $16.99. Fourteenth in the series. "Maisie Dobbs..faces danger and intrigue on the home front during World War II. During the months following Britain's declaration of war on Germany, Maisie Dobbs investigates the disappearance of a young apprentice working on a hush-hush government contract. As news of the plight of thousands of soldiers stranded on the beaches of France is gradually revealed to the general public, and the threat of invasion rises, another young man beloved by Maisie makes a terrible decision that will change his life forever. Maisie's investigation leads her from the countryside of rural Hampshire to the web of wartime opportunism exploited by one of the London underworld's most powerful men, in a case that serves as a reminder of the inextricable link between money and war. Yet when a final confrontation approaches, she must acknowledge the potential cost to her future - and the risk of destroying a dream she wants very much to become reality."


---
© 1996-2020 Bill Palmer.