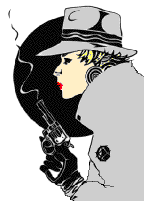 I TO Z


April 7, 2021

Keliikoa, Mary. DERAILED. Epicenter Press. May '20. $15.95. When a single mom with a deaf daughter inherits her father's PI business and she aims to prove that a young woman's death by train wasn't an accident and finds herself on a crash course with her complicated family and a killer determined to keep the truth hidden.



---
Mosley, Walter. TROUBLE IS WHAT I DO. Mulholland Books. January '21. $15.99. "Morally ambiguous P.I. Leonid McGill is back - and investigating crimes against society's most downtrodden - in this installment of the beloved detective series from an Edgar Award-winning and bestselling crime novelist. Leonid McGill's spent a lifetime building up his reputation in the New York investigative scene. His seemingly infallible instinct and inside knowledge of the crime world make him the ideal man to help when Phillip Worry comes knocking. Phillip 'Catfish' Worry is a 92-year-old Mississippi bluesman who needs Leonid's help with a simple task: deliver a letter revealing the black lineage of a wealthy heiress and her corrupt father. Unsurprisingly, the opportunity to do a simple favor while shocking the prevailing elite is too much for Leonid to resist. But when a famed and feared assassin puts a hit on Catfish, Leonid has no choice but to confront the ghost of his own felonious past. Working to protect his client and his own family, Leonid must reach the heiress on the eve of her wedding before her powerful father kills those who hold their family's secret. Joined by a team of young and tough aspiring investigators, Leonid must gain the trust of wary socialites, outsmart vengeful thugs, and, above all, serve the truth - no matter the cost."


---
Spillane, Mickey & Collins, Max Allan. MIKE HAMMER - THE BIG BANG. Titan Books. May '20. $8.99. "The reissue of a classic Mike Hammer story from the New York Times bestselling authors Max Allan Collins and the iconic master of noir Mickey Spillane. The toughest private eye in mystery fiction is back - it's the middle of the Swinging Sixties in midtown Manhattan. Hammer, recuperating from a near fatal mix-up with the Mob, disturbs some drug dealers assaulting a young motorbike messenger who was transporting medicine for a hospital. He saves the kid but the muggers are not so lucky. The Mob and a new young breed of drug trafficker assume he will target them, and they target him right back, with a street-corner knife attack. Hammer and his beautiful, deadly partner Velda take on the drug racket in New York. In a world of flashy discos, swanky bachelor pads and the occasional dark alley, Hammer deals with doctors, drug addicts and hit men, and meets changing times with his trademark brand of violent vengeance."


---
Spillane, Mickey & Collins, Max Allan. MIKE HAMMER - MASQUERADE FOR MURDER. Titan Books. June '20. $22.99. Nineth in the series. "Mike Hammer, the iconic PI created by hard-boiled crime master Mickey Spillane and written by New York Times bestseller Max Allan Collins, returns in MASQUERADE FOR MURDER. Hammer is at a high society party when a wealthy and well-respected man, Colby, is hit by a car and badly injured. When all he expected was a night on the town, Mike is hired to find out who was driving the car. His search leads him on a trail of murders, the victims often exhibiting the same kind of strangulation as the cause of death. How are they connected to an accident involving Corby, and why is the man himself acting so strangely?"


---

Spillane, Mickey & Collins, Max Allan. MIKE HAMMER - MURDER, MY LOVE. Titan Books. August '20. $8.99. "Hammer is summoned to a meeting with Jamie Winters, United States Senator from New York, and Jamie's lovely, very smart wife, Nicole, considered by many to be the power behind the throne. Winters is being blackmailed, and Hammer is given a list of suspects who may be behind the threats to the Senator's career. But when the suspects begin to drop like flies, Hammer realises there is more to this case than just a salacious tape."


---
Tomlinson, Max. VANISHING IN THE HAIGHT: A Mystery. Oceanview Publishing. September '20. $15.99. First of three in the Colleen Hayes series. Ex-con turned Private Eye Colleen Hayes is trying to survive in San Francisco in the 1970s. As if trying to avoid her lecherous parole officer and trying to find her teenage daughter isn't enough, the case she accepts from the very wealthy Edward Copeland will send her into great danger. Copeland hires her to solve the murder of his daughter who was found in Golden Gate Park eleven years ago. All he wants is to die in peace knowing what happened to her. Having killed her ex and spending a long time in prison, Coleen understands his need and sets off on a very dangerous mission coming up against corrupt policemen and the nasty underbelly of the city. Can she find clues others missed and solve the case while trying to stay alive?


---
© 1996-2021 Bill Palmer.