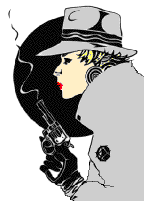 K TO Z


May 4, 2023

Housewright, David. SOMETHING WICKED: A McKenzie Novel. Minotaur Books. June '22. $26.99. 19th in the Twin Cities P.I. Mac McKenzie series. "...Rushmore McKenzie, who promised to retire after his last nearly-fatal case, gets talked into doing an old friend a favor involving a castle, a family fighting over an inheritance, and at least one mysterious death. Rushmore McKenzie was a detective with the St. Paul, Minnesota PD until unlikely events made him first a millionaire and then a retiree. Since then, he's been an occasional unofficial private investigator - looking into things for friends and friends of friends - until his most recent case put him into a coma and nearly into a coffin. Now, at the insistence of his better half Nina Truhler, he is again retired. That is, until a friend of Nina finds herself in dire straights and in desperate need of a favor. Jenness Crawford's grandmother owned the family castle - a nineteenth century castle that has been operating as a hotel and resort for over a hundred years. Since her grandmother's death, the heirs have been squabbling over what to do with it. Some want to keep it in the family and running as a hotel. Some want to sell it and reap the millions a developer will pay for it. And Jenness is convinced that someone - probably in the latter group - killed her grandmother. A conclusion with which the police do not agree. Now McKenzie finds himself back in action, trapped in a castle filled with feuding relatives with conflicting agendas, long serving retainers, and a possible murderer. And if McKenzie makes one wrong move, it could be lights out."


---


Hughes, Chip. ANOTHER PROBLEM IN PARIS: A Surfing Detective Novella. Slate Ridge Press. October '22. $7.99. "...When study abroad student Marie Ho fails to return from her semester in Paris Kai Cooke is hired by her estranged stepfather, psychiatrist Gordon Grimes, to fly to Paris and hand her a sealed envelope. The PI tracks her through Paris neighborhoods, guided by an old flame French professor, and finds Marie living with her boyfriend and another woman. Meanwhile Kai himself is being tracked. When he delivers the envelope Marie's apparent menage a trois is violently torn asunder. Kai suspects the Frenchmen who have been following him. And behind them someone closer to home."


---


Konrath, J.A. BITE FORCE. Independently published. August '22. $14.95. Book 15 of 16 in the Jacqueline 'Jack' Daniels Mystery series. "Being admitted to a hospital during a pandemic is bad. Being trapped there while a lunatic is on the loose is even worse. Ex-cop Jacqueline 'Jack' Daniels, ex-criminal Phineas Troutt, and ex-private eye Harry McGlade are all healing after a near-fatal encounter. But it's tough to mend when there's a serial killer prowling the halls at night, draining patients of their blood. The psychosis is known as Renfield's syndrome. The psycho has eyes on Jack and her friends. And they're about to learn that giving blood isn't always voluntary....."


---


Konrath, J.A. JACK ROSE. Independently published. February '23. $14.95. From the author: "The convention where true crime fans get to dress up like their favorite criminals, attend forensics seminars, and meet law enforcement legends. Former cop Harry McGlade loves being a Guest of Honor. Former cop Jacqueline 'Jack' Daniels...not so much. Jack hates being the center of attention. True crime groupies freak her out. And some of her police officer peers have serious envy issues. But the surreal event goes from irritating to frightening when a storm traps everyone inside the conference hotel. Then fans start getting gruesomely murdered, mimicking Jack's past serial killer cases. Can two old ex-cops use their decades of experience to end the horror? Or are Jack and Harry about to finally face a psychopath they can't stop?"


---

Lawson, BV. MELODY OF MURDER: A Scott Drayco Mystery. Crimetime Press. July '22. $13.99. "How would you solve your own kidnapping? And what if the reason behind it was even stranger than you could ever imagine? When detective Scott Drayco is abducted and given a mysterious puzzle to solve, his predicament is bizarre enough. But after he's released and one of his kidnappers is killed - a man who allegedly died five years ago - what began as a puzzling situation turns into an even stranger quest. Meanwhile, Drayco's father, Brock, has a new girlfriend with a shady background, and the timing of the relationship feels far too coincidental. When an even shadier connection also appears to be involved in Drayco's abduction, the stakes become deeply personal. Feeling stymied at every turn - and unable to get a song the dead man was obsessed with out of his head - Drayco wonders if he's too close to the case to be objective. Who was the mastermind behind the kidnapping, and what were their real motives? And was the death of the one kidnapper an accident...or murder? Drayco does know one thing for certain: he has to get to the bottom of the mystery soon, or more people could die...."


---

Miller, Mary Ann. BONES UNDER THE ICE. Oceanview Publishing. March '23. $27.95. A Jhonni Laurent Mystery. As the very first female sheriff of Field's Crossing, Indiana, Jhonni Laurent faces a difficult situation - she must prove herself by solving her first murder case! Jhonni finds the frozen body of a high school student under a huge pile of snow and ice in an area where murder is extremely rare. If that's not enough, her opponent for the office from four years prior begins a battle to remove her from the job. And then she discovers another body causing an old feud to resurface. When newspaper articles are printed that put doubt on the job she is doing, she must save her reputation while trying to stop the fracturing on the small community and solve the murders.


---
© 1996-2023 Bill Palmer.