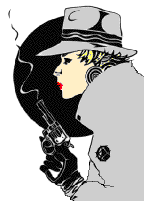 K TO Z


September 7, 2022
Hart, Jim. BLOODY MARY. Independently published. January '22. $9.98. "March 1947 finds Harry Parker engrossed in the gloomy alleys and dim streets of Post-War Brooklyn. His exploration into the grizzly murders of numerous prostitutes re-awakens the memories of Harry's first murder investigation while still a member of the NY City Police Force. The discovery of the bodies along the banks of the Gowanus Canal steels Harry's determination to bring the killer to justice and end this horrid tale of death. Hampered by the randomness of the killings and the incompetence of the Police, Harry must struggle to find a resolution. Aided by his usual friends, Harry works his way through the twists and turns of the case."


---

Housewright, David. SOMETHING WICKED: A McKenzie Novel. Minotaur Books. June '22. $26.99. 19th in the Twin Cities P.I. Mac McKenzie series. "...Rushmore McKenzie, who promised to retire after his last nearly-fatal case, gets talked into doing an old friend a favor involving a castle, a family fighting over an inheritance, and at least one mysterious death. Rushmore McKenzie was a detective with the St. Paul, Minnesota PD until unlikely events made him first a millionaire and then a retiree. Since then, he's been an occasional unofficial private investigator - looking into things for friends and friends of friends - until his most recent case put him into a coma and nearly into a coffin. Now, at the insistence of his better half Nina Truhler, he is again retired. That is, until a friend of Nina finds herself in dire straights and in desperate need of a favor. Jenness Crawford's grandmother owned the family castle - a nineteenth century castle that has been operating as a hotel and resort for over a hundred years. Since her grandmother's death, the heirs have been squabbling over what to do with it. Some want to keep it in the family and running as a hotel. Some want to sell it and reap the millions a developer will pay for it. And Jenness is convinced that someone - probably in the latter group - killed her grandmother. A conclusion with which the police do not agree. Now McKenzie finds himself back in action, trapped in a castle filled with feuding relatives with conflicting agendas, long serving retainers, and a possible murderer. And if McKenzie makes one wrong move, it could be lights out."


---
Hughes, Chip. BARKING SANDS:A Surfing Detective Mystery. Slate Ridge Press. November '21. $14.95. "Tracking serial killers isn't Kai Cooke's kuleana - or thing. So when the mother of a rape and murder victim abducted near Barking Sands Beach begs him to find the brute, Kai reluctantly declines. The twenty-year-old case of three slain women is on Kaua'i and the local force isn't likely to cooperate with an O'ahu PI. Then another woman fitting the victims' profiles goes missing and the cold case appears to turn warm. Is the Barking Sands Strangler back? Kai still begs off. Until his girlfriend who's just discovered she's pregnant backs the grieving mother and he hops a plane to Kaua'i. But can he pull off what two decades of police work couldn't? Or wrap his mind around the prospect of parenthood?"


---


Konrath, J.A. BITE FORCE. Independently published. August '22. $14.95. Book 15 of 16 in the Jacqueline 'Jack' Daniels Mystery series. "Being admitted to a hospital during a pandemic is bad. Being trapped there while a lunatic is on the loose is even worse. Ex-cop Jacqueline 'Jack' Daniels, ex-criminal Phineas Troutt, and ex-private eye Harry McGlade are all healing after a near-fatal encounter. But it's tough to mend when there's a serial killer prowling the halls at night, draining patients of their blood. The psychosis is known as Renfield's syndrome. The psycho has eyes on Jack and her friends. And they're about to learn that giving blood isn't always voluntary....."


---
Muller, Marcia. ICE AND STONE. Grand Central. March '22. $9.99. Twenty-seven of twenty-seven in the Sharon McCone series. "In remote Northern California, private investigator Sharon McCone goes undercover to investigate the murders of two indigenous women in this gripping, atmospheric mystery in the New York Times bestselling series. When the bodies of two Indigenous women are found in the wilderness of northern California, it is only the latest horrific development in a string of similar crimes in the area. Despite all evidence to the contrary, officials rule the deaths isolated incidents, which soon join the ranks of countless other unsolved cases quickly dismissed by law enforcement. In a town where too many injustices are tolerated or brushed under the rug, only a few people remain who refuse to let a killer walk free. But Private Investigator Sharon McCone is one of those few. She is hired by an organization called Crimes against Indigenous Sisters to go undercover in Meruk County - a community rife with secrets, lies, and corruption - to expose the truth. In an isolated cabin in the freezing, treacherous woods, McCone must work quickly to unravel a mystery that is rooted in profound evil - before she becomes the killer's next target." Available on Audio CD from Hachette and Blackstone.


---
Myers, M. Ruth. A DAME WORTH KILLING. Independently published. March '22. $16.00. Book 10 of 10 in the Maggie Sullivan Mystery series. "The distraught mother begging 1940s private investigator Maggie Sullivan for help is married to a man with plenty of reason to want the detective dead. He's a crime boss. Their past clashes left both nursing grievances. And Maggie killed one of his men to save the life of a vital witness. Now Nico Caras swears he'll let bygones be bygones if she'll find his daughter Adrianne, who disappeared off a city street after lunch with a friend. The police aren't likely to help, and would use it as an excuse to nose into his affairs. Besides, there's been no ransom demand, nothing to suggest foul play. If Maggie won't help, who will? Her sisters suggest the girl might have eloped with an old flame, or run off to escape an unwanted engagement. A more likely scenario is that it has something to do with her father's plans to relinquish some of his criminal enterprises. But Maggie thinks the reason goes deeper still. The more she learns, the more she thinks the girl is on the run because she's scared. As she tries to juggle work with helping a young veteran damaged by war, a bullet misses Maggie by inches and two murders occur linked to Caras, a rival of his, and the girl she's hunting. How can the detective possibly take on the role of wife and stepmother as the man who has loved her for years is urging? She needs all her concentration to rescue an innocent pawn in a deadly game where the other side cheats."


---
© 1996-2022 Bill Palmer.