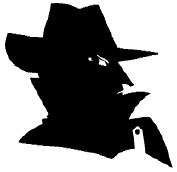 March 2, 2020
Anderson, Eric C. HORUS: A novel. Adam Dunn Inc. September '19. $23.95. Third in the New Caliphate Trilogy. Trying to recover from his last encounter when "megalomaniacs battled zealots and America was caught in the crossfire," the President of the U.S. fears the possibility of nuclear war. Forced to work together once again, Army Special Forces Major Faheem and Marine Corps Master Gunnery Sergeant More must intervene when warlords and fanatics begin a march across the Middle East, ISIS and the Caliph go on the run, and a Turk tries to revive the Ottoman Empire. Also in the game are the Kurds and poison gas is being deployed. Europe is burning and a cyber-criminal is trying to destory whatever he can. To top it off the two men learn that North Korea is selling cruise missiles to terrorists. Will they be able to stablize the situation and save the world before it's too late? Paperback edition. December '19. $10.96.


---
Bond, Mike. GOODBYE PARIS. Big City Press. June '19. $15.95. Third in the Pono Hawkins series. Special Forces vet Pono Hawkins is forced back into action when he finds out that an ISIS terrorist he thought was dead, got his hands on a nuclear weapon and planned to use it on Paris. Pono, who was a prisoner of the terrorist, is the only one still alive who can recognize the man. Pono rushes to Paris and joins forces with US and French intelligence as they try to thwart the imminent attack while trying to avoid getting killed. "Based on the author's years of experience with terrorism and Middle East wars, and his deep knowledge of French and US intelligence and military operations, GOODBYE PARIS is a stunning thriller, an entrancing love story, and an exciting account of anti-terror operations from Paris and Morocco to Afghanistan."


---
Brown, Dale. THE KREMLIN STRIKE: A Novel. William Morrow. May '19. $28.99. Fifth in the series. "In this exciting, visionary, and all-too-plausible next chapter in the legendary Dale Brown's New York Times bestselling techno-warfare series, Brad McLanahan and the Iron Wolf Squadron must fight the Russians on a dangerous, untested battlefield: outer space. The previous administration's ineffective response to the growing Russian threat has left America vulnerable. Setting a bold course for America's defense, the decisive and strong new president, John Dalton Farrell, intends to challenge Russian aggression head on. Brad and Patrick McLanahan and the formidable Iron Wolf Squadron - including the recently injured Nadia Roz, rested and back to fighting form thanks to a pair of state-of-the-art prosthetic legs - are ready and eager to join the battle. But even with their combined forces, the Russian menace may prove too great for the Americans to overcome. Done with provocative skirmishes and playing for small stakes, the Russian president has set his sights on the ultimate prize: controlling the entire world. Expanding beyond earth's bounds, the Russians have built a new high-tech space station and armed it with weaponry capable of destroying US satellites as well as powerful missiles pointed at strategic targets across earth. Devising a cunning plan of attack, Brad, Nadia, and the Iron Wolf warriors will take to the skies in their advanced space planes to destroy the space station, check the Russians' plan for dominance, and save the world. But is it already too late?" Paperback edition. February '20. $9.99.


---

Chierici, Paco. LIONS OF THE SKY. Braveship Books. April '19. $26.99. Sam Richardson, fighter pilot extrodinaire, is finishing his last tour as an instructor when he's ordered to teach one more class. He doesn't think much of the 'new kids' who are about to graduate and the way they see their planes as expensive toys. They don't see what Sam does, trouble coming from the East that will bring global problems. He knows the graduates will be placed into danger over the China Sea where they will have to fight to survive. Simultaneous release in trade paperback. $10.99.


---
Dugoni, Robert. THE EIGHTH SISTER: A Thriller. Thomas & Mercer. April '19. $24.95. First in the Charles Jenkins series. "A pulse-pounding thriller of espionage, spy games, and treachery by the New York Times bestselling author of the Tracy Crosswhite Series. Former CIA case officer Charles Jenkins is a man at a crossroads: in his early sixties, he has a family, a new baby on the way, and a security consulting business on the brink of bankruptcy. Then his former bureau chief shows up at his house with a risky new assignment: travel undercover to Moscow and locate a Russian agent believed to be killing members of a clandestine US spy cell known as the seven sisters. Desperate for money, Jenkins agrees to the mission and heads to the Russian capital. But when he finds the mastermind agent behind the assassinations - the so-called eighth sister - she is not who or what he was led to believe. Then again, neither is anyone else in this deadly game of cat and mouse. Pursued by a dogged Russian intelligence officer, Jenkins executes a daring escape across the Black Sea, only to find himself abandoned by the agency he serves. With his family and freedom at risk, Jenkins is in the fight of his life - against his own country." Simultaneous release on Audio CD from Brilliance Audio and in trade paperback.


---
Formant, Chris. SAVING WASHINGTON: The Forgotten Story of the Maryland 400 and The Battle of Brooklyn. Permuted Press. December '19. $16.00. A fascinating fact-based story about 400 young men who changed history on the battlefield at the beginning of the Revolutionary War. In August of 1776, the men from Baltimore, Maryland fought a much larger British army, helping George Washington and his men to escape. The book traces the events through the eyes of Joshua Bolton and his friend Ben, a freed slave. "Chris Formant's gripping tale blends real-life historical figures and events with richly developed fictional characters in a multi-dimensional world of intrigue, romance, comradeship, and sacrifice, transporting us two-and-a-half centuries back in time to the bustling streets of Baltimore and the bloody, smoke-filled carnage of battle in Brooklyn." Trade papberback edition.


---

Grossman, Gary & Fuller, Ed. RED HOTEL. Beaufort Books. April '19. $24.95. The timing for the release of this book couldn't be better! After leaving the service, Ex Army Intelligence officer Dan Reilly became an international hotel executive. With total access to the CIA, he becomes involved in tracking the bomber who blew up the front of a Tokyo hotel injuring and killing dozens of people. His investigation leads Dan to believe that the bomber isn't acting alone. As he follows the clues, Dan realizes the bomber is being backed by a global superpower and the bombing could be the beginning of a terrible war.


---
Herron, Mick. LONDON RULES. Soho Crime. June '19. $15.95. Fifth and last in the Slough House Series. First Desk Claude Whelan has his hands full trying to protect a prime minister while fighting off attacks on several fronts. The MP who arranged the vote on Brexit wants all the glory while his columnist wife, a tabloid reporter, is giving Claude a hard time with the articles she's printing. Add to the list a Muslim who is hiding several dark secrets while running for mayor of the West Midlands, and Claude's deputy who is waiting for him to make a mistake. If that isn't enough, there have been random terror attacks around the country. Things aren't going well at Slough House either, which isn't really unusual. The MI5 satellite office for outcast and demoted spies has a lot of problems of it's own making including the fact that somebody is trying to kill Roddy Ho. A good read that brings a grand end to the series.


---
Johnston, Peter D. WEAPONS OF PEACE. Goldrook Publishing. April '19. $18.95. Based on the premise that the Nazis were the first ones to develop the Atom Bomb, the book delves into a what if premise inspired by two incidents during World War II. The U.S. top negotiator, recovering from bullet wounds in England convinces his nurse to help him convince Hitler's scientists to help destroy the bomb they created. The ensuing chaos, from a murder in Washington, DC, to a German atomic test and a plot to kill Hitler, "Johnston's expert hand blends real-world historical material with heart-pounding action, unforgettable characters, and precious insights into influence and how the Nazis negotiated their way to power...."


---
Kanon, Joseph. Atria Books. THE ACCOMPLICE: A Novel. November '19. $28.00. Kanon returns with an exciting story about a Nazi war criminal and the CIA agent trying to capture him. Having survived the horrors of the Auschwitz prison camp in Germany during WWII, Max Weill wanted nothing more than to capture Dr. Otto Schramm, the doctor who worked with Mengele on his terrible experiments and was responsible for sending Max's family to the gas chamber. Unfortunately, the doctor was able to avoid capture and escaped to Argentina with a new identity and immunity from his war crimes. Max, realizing he didn't have long to live, asked his nephew Aaron Wiley, a CIA analyst, to capture the doctor and make him pay for his crimes. Aaron agrees to take on the task and arrives in Buenos Aires where he finds several Nazis who escaped after the war. With the help of the CIA station chief in Buenos Aires, a German newspaper reporter, and an Israeli agent, Aaron begins his hunt to bring the doctor to justice. Available in paperback. Washington Square Press. June '20.


---
Kurland, Michael. THE BELLS OF HELL. Severn House. December '19. $28.99. First in the Welker & Saboy series. "Counter-intelligence agent Jacob Welker recruits a number of civilians to help foil a suspected terrorist attack by German spies in New York in 1938. March, 1938 Otto Lehman arrives in New York on the S.S. Osthafen to be immediately confronted by two men with FBI badges...only, that isn't his real name and the men aren't with the FBI. The next day Lehman is found tied to a chair, beaten to death and naked, in an abandoned Brooklyn warehouse. The sole witness to the crime, Andrew Blake, a homeless man struggling through the Great Depression, claims those responsible were speaking German. With the threat of the perpetrators being Nazis, President Roosevelt's own covert counter-intelligence agent Jacob Welker is brought in to investigate. Welker recruits Blake along with Lord Geoffrey Saboy, a British 'cultural attache', and his wife Lady Patricia, to help him to thwart a Nazi terrorist attack. But who exactly are the Nazis, what is their target and when will they strike?"


---
Lutz, John. THE HAVANA GAME. Pinnacle Books. April '19. $9.99. Second in the Thomas Laker series. "With the U.S. seemingly linked to a terrorist bombing in a Baltic nation and a Russian troop buildup just over the border, the covert Gray Outfit sends Thomas Laker to untangle the mess. But after a second attack leaves him out in the cold, Laker's on his own. Five thousand miles away in Miami, Laker's partner and NSA codebreaker Ava North is investigating the murder of a fellow agent. When tracks lead to a Cuban-American billionaire in bed with the Jersey Mob, Ava's superiors want her to lay off. Not a chance. Though oceans apart, Laker and Ava discover their separate missions are tied to one explosive plot. The only way out is to breach all protocol and play by their own rules...." BR>

---
Riva, Peter. KIDNAPPED ON SAFARI: A Thriller. Skyhorse. January '20. $22.99. Book 3 of 3 in the Mbuno & Pero Series. A fitting finale to the series. Safari guide Mbuno and his TV producer, Pero Baltazar, are filming in Kenya, East Africa, when word reaches them that Mbuno's son, also a guide, was kidnapped in Tanzania. The two men immediately set off to rescue Mbuno's son. Mbuno's expertise enables him to track the kidnappers to a national park where Boko Haram mercenaries are protecting an illegal logging operation. They not only find Mbuno's son, but learn that what's going on could leaf to a political coup along with terrifying ramifications for the entire country. What makes this book especially scary is the fact that the story was based on actual newspaper headlines.


---
Woods, Stuart & Hall, Parnell. SKIN GAME. G.P. Putnam's Sons. June '19. $28.00. Third in the Teddy Fay series. "Teddy Fay returns to his roots in espionage. When Teddy Fay receives a freelance assignment from a gentleman he can't refuse, he jets off to Paris on the hunt for a treasonous criminal. But as Teddy unearths more information that just doesn't seem to connect, his straightforward mission becomes far bigger - and stranger - than he could imagine. The trail of bread crumbs leads to secrets hidden within secrets, evildoers trading in money and power, and a global threat on an unprecedented scale. Under the beautiful veneer of the City of Lights, true villainy lurks in the shadows...and Teddy Fay alone can prevent the impending disaster." Simultaneous release on Audio CD from Penguin Audio. Paperback edition. G.P. Putnam's Sons. December '19. $9.99.


---
© 1996-2020 Bill Palmer.