January 3, 2023

Bleiweiss, Rick; Bruns, Don; Child, Lee, Child, Andrdew; & 5 more. HOTEL CALIFORNIA: An Anthology of New Mystery Short Stories. Blackstone Publishing. July '22. $26.99. The Music and Murder Mystery Series. "Featuring a new Jack Reacher story by Lee & Andrew Child! A dangerous drifter, a hired gun, a grisly corpse - you never know who you'll run into at the Hotel California. Eight deliciously talented mystery authors have lent their skills of crafting murder and suspense to this collection of gripping short stories. Each of these eight provocative tales is designed to entertain and mystify - and maybe even chill you to your core. Get lost in the wild imaginations of such New York Times bestselling writers as Lee & Andrew Child, Heather Graham, Reed Farrel Coleman, and John Gilstrap, plus authors Rick Bleiweiss, Jennifer Dornbush, Amanda Flower, and Don Bruns. From the titular tale 'Hotel California' to a new, original Jack Reacher adventure, these stories have a little something for every mystery lover. Go ahead. Check in, enjoy some room service, and stay until the very last tantalizing page. Just don't forget to search the closet or behind the curtains." Simultaneous release on Audio.


---

Christie, Agatha; Alderman, Naomi; Bardugo, Leigh; Cole, Alyssa & 9 more. MARPLE: Twelve New Mysteries. William Morrow. September '22. $28.99. "Agatha Christie's legendary sleuth, Jane Marple, returns to solve twelve baffling cases in this brand-new collection, penned by a host of acclaimed authors skilled in the fine art of mystery and murder. One doesn't stop at one murder... Jane Marple is an elderly lady from St. Mary Mead who possesses an uncanny knack for solving even the most perplexing puzzles. Now, for the first time in 45 years, Agatha Christie's beloved character returns to the page for a globe-trotting tour of crime and detection. Join Marple as she travels through her sleepy English village and around the world. In St. Mary Mead, a Christmas dinner is interrupted by unexpected guests; the Broadway stage in New York City is set for a dangerous improvisation; bad omens surround an untimely death aboard a cruise ship to Hong Kong; and a bestselling writer on holiday in Italy is caught in a nefarious plot. These and other crimes committed in the name of love, jealousy, blackmail, and revenge are ones that only the indomitable Jane Marple can solve. Bringing a fresh twist to the hallmarks of a classic Agatha Christie mystery, these twelve esteemed writers have captured the sharp wit, unique voice, and droll ingenuity of the deceptively demure detective. A triumphant celebration of Christie's legacy and essential reading for crime lovers, Marple is a timely reminder why Jane Marple remains one of the most famous detectives of all time."


---

Oates, Joyce Carol. NIGHT, NEON: Tales of Mystery and Suspense. Mysterious Press. May '22. $16.95. "A new collection of dark, chilling tales from the #1 New York Times Bestselling author. From literary icon Joyce Carol Oates comes a brand new collection of haunting and, at times, darkly humorous mystery & suspense stories. These are tales of psyches pushed to their limits by the expectations of everyday life - from a woman who gets lost on her drive home to her plush suburban home and ends up breaking into a stranger's house, to a first-person account of a cloned 1940s magazine pinup girl being sold at auction and embodying America's ideals of beauty and womanhood. Taken as a whole, the collection forms a poignant tapestry of regular people searching for their place in a social hierarchy, often with devastating and disastrous results. Rendered with stylish, fresh writing from an author who continues to push the envelope, the stories deftly weave in and out of a stream-of-consciousness to reflect the ways we process traumatic experiences and impart that uncertainty and uneasiness to the reader. Originally appearing in publications as disparate as Harper's, Vice, and Conjunctions, the stories comprising NIGHT, NEON showcase Oates' mastery of the suspense story - and her relentless use of the form to conduct unapologetically honest explorations of American identity.


---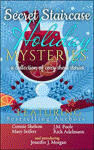 Phillips, Gary, editor. SOUTH CENTRAL NOIR. Akashic Books. September '22. $16.95. Akashic Noir Series. Featuring brand-new stories by: Steph Cha, Nikolas Charles, Tananarive Due, Larry Fondation, Gar Anthony Haywood, Naomi Hirahara, Emory Holmes II, Roberto Lovato, Penny Mickelbury, Gary Phillips, Eric Stone, Jervey Tervalon, Jeri Westerson, and Desiree Zamorano. "From the Introduction by Gary Phillips: Within these pages you'll find stories of those walking the straight and narrow - until something untoward happens. Maybe it's someone taking a step out of line, getting caught up in circumstances spiraling out of their control. Maybe they're planning the grift, the grab...whatever it is to finally put them over. Other times the steps they take are to get themselves or people they care about out from under. You'll find the offerings in these pages are a rich mix of tone-tales told of hope, survival, revenge, and triumph. Excursions beyond the headlines and the hype. The settings herein reflect South Central today or chronicle its colorful past, such as the days of the jazz joints along Central Avenue.... From South Park to East Martin Luther King Jr. Boulevard, from the borderlands of Watts to the one-time Southern Pacific railroad tracks paralleling Slauson Avenue, take a tour of a section of Los Angeles that may be unfamiliar to you but you will get to know, at least a little, by the time you finish reading this entertaining and engaging anthology." Available on audio CD from Brilliance Audio.


---
Shelton, Connie; Poole, Jeffrey; Adelmann, Rick; Seifert, Mary; & Morgan, Jennifer J. HOLIDAY MYSTERIES: A Collection of Cozy Short Stories. Secret Staircase Books. October '22. $13.99. "Take a mysterious secret staircase into the holiday season, from Halloween to New Year's Day, with this collection of seasonal cozy mystery short stories from an elite group of authors. Each story features the characters from the author's ongoing series. Read about your old favorites, meet some new ones! 'Halloween, Hound, & Housesitting' - Mary Seifert's new Katie & Maverick mystery kicks off the holiday season with a delightfully spooky house of tricks and a few ghostly surprises. As always, Maverick the search-and-rescue retriever makes sure the clues are found before the witching hour! 'The Case of the Secret Staircase' from J.M. Poole, the bestselling author of The Corgi Case Files. A family celebration for Dia de los Muertos gets interrupted by a series of thefts, small items intended to honor the ancestors. Does it have something to do with Highland House, the venue that's suspected of harboring a few of its own ghosts? At once, the smart and lovable corgis are on the case. Sherlock and Watson, along with their human helpers, Zack and Jillian Anderson, will unravel the mystery, clue by clue. 'The Birdless Thanksgiving Affair' by Amazon bestselling author, Rick Adelmann, sees our favorite trio of Roaring '20s detectives gathering at the Mallory family home for Thanksgiving dinner. It's going beautifully - until the turkey disappears! Thank goodness the MG&M Detectives are on the scene to solve the mystery. 'Hanukkah Sweets' - USA Today bestselling author, Connie Shelton, gives magical baker Samantha Sweet something new to ponder, as a family from New York comes to Taos, New Mexico to celebrate Hanukkah at the local B&B. But what surprises await visitors and locals alike when a secret staircase leads to a hidden treasure? And who among the group has darker intentions for the festival of lights? 'The Christmas Fairy' - Jennifer J. Morgan makes her series debut with this enchanting short story. Libby Madsen and her business partner are eagerly anticipating the grand opening of their luxurious day spa, and the budget will just barely allow for the fantastic decorations and food the ladies want, to set the tone. But an unscrupulous party planner takes off with their money, the party is only days away, and it's starting to look a little bleak for Christmas this year. What will they do? 'Champagne Can Be Murder' - Charlie Parker and her husband don't normally celebrate New Year's Eve in grand style, but an invitation to the Montana Verde Ranch from Drake's richest client is not to be ignored. What the heck, they figure, they'll hobnob with the Hollywood crowd for one night and win some points with the client. But when a big-name producer falls down dead after a trip to the food table, it looks like there's a killer in their midst. Charlie is on the case, as usual, in Connie Shelton's USA Today bestselling series."


---

Walker, Martin. BRUNO'S CHALLENGE: And Other Stories of the French Countryside. Knopf. March '22. $27.00. Bruno, Chief of Police Series. "Martin Walker presents his first collection of stories featuring all the familiar characters from his Bruno novels and the glories of the Perigord region of France, with ample helpings of food and wine. After a prisoner breaks parole to see his son on Christmas, Bruno must track him down before he throws away his chance at eventual freedom. When a Senegalese man's coffee sells superbly at the market, some cafe owners become incensed by the new competition and take matters into their own hands. As a Swiss tourist and a St. Denis native fall in love over the fruit-and-veggie stall, one of their family members takes drastic steps to break them up. A fledgling tour bus business is sabotaged, leading Bruno to take a closer look at a town love triangle. Called in to investigate a case of stolen oysters, our beloved policeman reunites with an old flame to catch the shellfish thieves. In story after story, Bruno settles town disputes, mediates family quarrels, and tracks down lawbreakers in his adored village of St. Denis and its environs. Featured meals in the collection include a fatty Christmas goose, a savory nettle soup with crème fraîche, and a fluffy quiche Lorraine." `


---
© 1996-2023 Bill Palmer