WHAT THE EXPERTS ARE SAYING ABOUT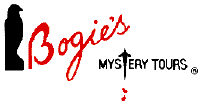 Bogie's Mystery Tours are Great Fun! - Lawrence Block, award winning author of the Chip Harrison, Bernie Rhodenbarr, Matthew Scudder, and Evan Tanner series, with several films based on his books to his credit.






Bogie's Mystery Tours events are wonderful fun. Try one - you'll love it! - Mary Higgins Clark, best selling author of suspense.






It's no mystery that Bogie's Mystery Tours are the most fun a mystery fan - or writer - can have! - Max Allan Collins, award winning author of the Dick Tracy and Nate Heller series, and the film "Mommie."






Nobody cares more about Mysteries than the Palmers. - William L. DeAndrea, author of the Matt Cobb series and four-time Edgar Award winner.






Absolutely nobody does a mystery event better than Bogie's. What pro's the Palmers are. - Aaron Elkins, Edgar Award winning author of the Gideon Oliver series.






The QEII crossing was a benchmark of my career. The company was topnotch, the accommodations tight but comfortable, the food and service superb. The running murder-mystery play we put on for our fellow passengers delivered all the terrors and triumphs of a good-natured amateur community theatrical production, which is an experience any good writer should undertake if he hopes to become great. Also we didn't sink. - Loren Estleman, three-time winner of the Private Eye Writers of America Shamus Award for the Amos Walker series, and a nominee for the Pulitzer Prize and the American Book Award.







I love Bogie's Mystery Tours, even when I'm the corpse. I'm not kidding. These people kill me! - Parnell Hall, author of the Stanley Hastings, Steve Winslow, and Puzzle Lady series.







I thoroughly enjoyed traveling on the QEII to England on a marvelous Bogie's Mystery Tour. A good crime was had by all. - Carolyn G. Hart, author of the Death on Demand, Henrie O, and Jane Lawless mystery series.





My most memorable mystery weekend was the brilliant adventure set up by Karen and Billy Palmer at the Grand Hotel on Mackinaw Island. The company, including James Ellroy and Jonathan Valin; the food, the mystery and the island were perfect. From the boat launch to the solution of the murder, I felt as if I were a member of the cast of And Then There Were None. Karen and Billy know how to put on an unforgetable mystery experience. - Stuart Kaminsky, author of the Lew Fonesca, Abe Lieberman, Toby Peters, & Porfiry Petrovich Rostnikov series, in addition to numerous short stories.




No grander time could be had at the Grand Hotel than as part of a Bogie's Mystery Tour. There is no more luxurious setting for mystery, and no one knows better than Bogie's how to commit a crime. A Bogie's event at the Grand is like MURDER ON THE ORIENT EXPRESS but with room to roam and better service. - John Lutz, Edgar and Shamus Award winning author of the Fred Carver series, and author of "Single White Female."






A veteran of two Bogie's Mystery Tours, I swear they're more fun than a cricket in your shorts. - Gregory Mcdonald, Edgar Award winner of the Fletch and the Flynn series.






Murder is never nice...unless it's an entertaining adventure in detection with Bogie's Mystery Tours! Having sleuthed on many a fasinating and fun case with them in quaint inns, fancy bistros, and even on the high seas in the Caribbean, I can report first hand about how great it is to be your own Sherlock Holmes, Miss Marple, or Columbo with the help of this first class crew of mystery masters. Take it from me, a two time Edgar Award nominee - you'll have the crime of your life! - Ric Meyers, author of "TV Detectives" and "Murder on the Air."






Crossing the North Atlantic in the hands of Bogie's Mystery Tours was akin to attending a shipboard party in the company of Marple and Poirot. Good people, good food, and enough murderous twists and turns to keep the participants in suspense to the very last! - Marcia Muller, pioneer of the female P.I. genre and author of the Sharon McCone series.






Billy and Karen,
The King and Queen of Crime
Can always be counted on
For a Royal good time. - Warren Murphy, two-time Edgar Award winner, co-author of the Destroyer series, author of the Trace series and the film "Lethal Weapon II."





I could never have predicted that writing mystery novels would lead me onto the QEII to sail to England with Bogie's Mystery Tours. If I'd known that, I surely would have started writing them sooner! We had a fabulous time, authors and fans, alike. - Nancy Pickard, author of the Jennie Cain and Marie Lightfoot series.







Thanks to Karen and Bill Palmer, the QE2 mystery voyage was great fun! On no other tour could you find better company, a more intricate and enjoyable whodunit game -- and writers of hardboiled private eye stories sipping tea and eating scones in a shipboard salon! - Bill Pronzini, award winning author of the "Nameless" P.I. series.






Billy and Karen Palmer ARE MURDER! - Robert J. Randisi, founder of the Private Eye Writers of America, and author of the Miles Jacoby & Joe Keough series.






Sharpen up your wits and get ready for the time of your life - starting with murder, laced with clues, topped with the joy of solving a crime! - Chris Steinbrunner, co-author of "The Films of Sherlock Holmes" and "The Encyclopedia of Mystery & Detection."



---

© 1996-2023 Bogie's Mystery Tours®. This page last updated on January 2, 2017.