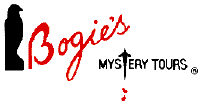 Roxbury, New York
607-326-4682
INTERACTIVE MYSTERY EVENTS

Special events should be just that - SPECIAL. The event should provide an unforgettable experience that people will rave about for a long time. Mystery theme parties can make a corporate event, an incentive, or a private party into a very special event, and can be"the stuff that dreams are made of...."



If you're looking for a company as special as the event being planned, contact Bogie's Mystery Tours&reg. Bill & Karen Palmer, creators of the original participatory mystery events company and Mystery Dinner Theater, have over forty years of experience. Our interactive mystery events feature analytical, play-fair whodunits where participants actively work to solve the crime. This is accomplished by interrogating suspects, portrayed by professional actors and published mystery authors, searching for clues, and sifting through the red herrings. It's up to you and your guests to solve the crime! Prizes are awarded to the sleuths with the most accurate solutions.





Only Bogie's Mystery Tours® can give participants the opportunity to meet today's most prominent, award-winning mystery authors. During weekend and longer events, the authors not only play suspects, they give talks, appear on panels, and sign their books.




In addition to special events, scavenger hunts, fund raisers, private parties, Bar/Bat Mitzvah's, weekends, cruises, and incentives, our interactive mysteries are perfect for corporate events and entertainment. The mystery, which provides an interesting and enjoyable experience, can also be useful as an exercise aimed at team-building and fostering cooperation, while stressing the aspect of competition.


The Palmers can help with mystery events that encompass an evening, or a full week. Each event is designed to fit the group, theme, or occasion. With advance notice, scenarios can be specifically written or customized for a company or event. Bogie's Mysteries are written, produced, and directed by published authors Karen and Bill Palmer.




Let Bogie's"madcap masters of mystery and mayhem" tailor the mystery to suit your particular group, event, location, or occasion.




It'll be the crime of your life!



For further information, contact Karen Palmer at
(607) 326-4682 or email BMT@Bogies.net
Congratulations, you are sleuth number
to discover this site since 3/15/96
GigRoster: Professional Entertainment Consultants
Professional Entertainment For Any Event!
WEB-COUNTER provides our complimentary page counter
---
© 1996-2023 Bogie's Mystery Tours®. Updated January 3, 2023.